Ineos Automotive has plans to create a 'world-class, uncompromising 4×4', scheduled to reach the market in 2020, influenced by the Land Rover Defender and in need of a Government grant. Oh yes, and it is provisionally titled Pjoeckt Grenadier. Thy have budgeted 600m to spend and will create thousands of new jobs.
Meanwhile, Free Car Mag are rebuilding our 1984 Series 3 (aka The Lorry) for rather less. Indeed, we wore our Land Rover out, which is what you are supposed to do, but the brilliant thing about old Land Rovers is that you can get all the parts. We could have rebuilt it ourselves and never finished it, or got bored, so we have commissioned a specialist.
We wish Ineos all the best and look forward to seeing the design and hope that they create jobs, but a copy of a Defender won't do. It will have to be better than that and they do plan on a more rugged and reliable vehicle. For the time being though it makes sense to recycle and rebuild these classics.
Stay tuned for stories about the rebirth of the Free Car Mag Lorry.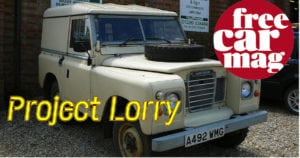 Just in case you wondered, here is the story behind PROJEKT GRENADIER, where there are jobs, information and the opportunity to help name the vehicle..www.projektgrenadier.com