As car theft continues to rise in the UK, with over 130,000 cars being stolen in the last year, how likely is it that your car could become a target?
Confused.com car insurance experts have analysed DVLA data to find out the most stolen car makes and models in the UK, and the biggest hotspots for theft.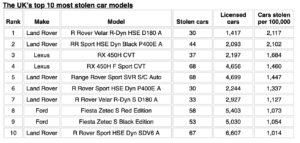 The Range Rover Velar R-Dyn HSE D180 A is the most frequently stolen car in the UK, with 2,117 stolen per 100,000 registered in the UK last year. Other Range Rover models dominate the list of the most stolen cars, accounting for 6 of the top 10. These include the RR Sport HSE Dyn Black P400E A and the Range Rover Sport SVR S/C Auto, both seeing over 1,400 cars stolen per 100,000.
Lexus models also feature prominently, with 2 versions of the RX 450H taking third and fourth place, with 1,684 and 1,460 thefts per 100,000. Ford Fiestas are also popular targets, with the Zetec S Red (1,073 per 100,000) and Black (1,054 per 100,000) Editions occupying the eighth and ninth place.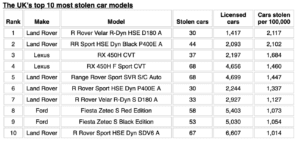 With Range Rovers the most targeted model of car for thieves, it's no surprise that its car manufacturer Land Rover is the most commonly stolen brand in the UK. Land Rover topped the rankings with 924 per 100,000 stolen vehicles.
Another luxury brand, Mercedes-Benz, lands in the top three with 323 cars stolen per 100,000. BMW (290 per 100,000) and Audi (216 per 100,000) also dominate the top 5. Škodas are the least likely to be stolen of the major brands, with just 72 per 100,000 being targeted in the last year.
Further insights:
Black is by far the most stolen colour of cars, with just under 18,000 being stolen in the last year.
Brighter colours such as pink (24) and turquoise (37) are some of the least popular with thieves.
People in the Welsh area of Dyfed-Powys are the safest from vehicle theft, where just 22 per 100,000 cars are stolen.
Drivers in the West Midlands are most likely to have their cars stolen, with 251 thefts per 100,000.