At Free Car mag we adore Talking Pictures TV with its mix of old series, films and even public information films and documentaries. The best programme though is undoubtedly on Friday nights, just before 9pm. That's when the magnificent actress and legend Caroline Munro introduces the night's horror film and also answers a viewers question.
Well, recently it was Free Car Mags turn when the editor wrote a letter to Caroline asking about the cars in her life. The great news is, Caroline is one of us, she loves cars. Especially minis.
My first car was a mini 1000. 'I bought it with my first paycheck, £450'.
'I love minis and had quite a few mini coopers.'
'There was a Daimler that my husband and I didn't pay the last instalment on, so it got repossessed, I thought it was being stolen.
'I drove an E-Type in a advert for Ridley Scott and a Porsche.
'I don't have a car right now and the last one was a Skoda Fabia.'
READ THE FULL CAROLINE MUNRO ANSWERS IN ISSUE 102 OF FREE CAR MAG OUT SOON…
Free Car Mag would like to thank Caroline for answering our questions and offer her a drive in the Free Car Mag Mini Cooper. We are happy to bring it to her door to bring back many happy memories.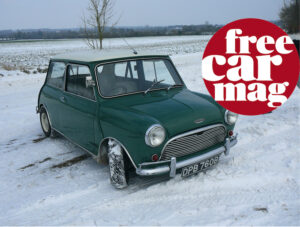 Thanks to Kenny Smith for giving us the details.