Car manufacturers are guilty of confusing drivers with complicated names for common features and simple technology.
MotorEasy has revealed some of the most baffling lingo used by car makers as it continues its fight for "plain English" in the UK automotive industry.
The car ownership and maintenance service has launched the 'Lost in Translation' campaign in a bid to convince garages to ditch the jargon.
It is now targeting complex abbreviations and meaningless product names that leave Brits baffled about what's actually fitted on their car having previously questioned garage lingo.
Audi's Mechatronics, Vauxhall's OnStar and Mercedes' Distronic Plus have all been called out for their meaningless names as part of a list compiled by MotorEasy.
Abbreviations like TPMS and ADAS are also common-place on options lists but mean very little to most drivers who are left unaware of how their cars actually work.
Seven of the top baffling names and terms used by car manufacturers: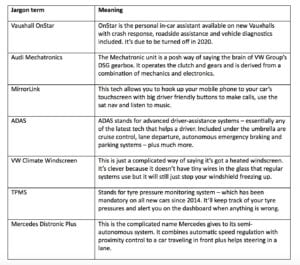 MotorEasy founder, Duncan McClure Fisher, said: "Using complex names and abbreviations might sound impressive on an options list but is simply confusing for the everyday driver.
"While garages are guilty of using baffling lingo when talking about repairs, car manufacturers must also do better when it comes to explaining what is fitted to a vehicle rather than using meaningless names and terms.
"Our 'Lost in Translation' campaign is focusing on making the whole industry easier to understand for everyone to build trust among drivers, manufacturers and mechanics."
MotorEasy's 'Lost in Translation' aims to highlight how workshops could take simple steps to improve the relationship they have with customers and increase customer loyalty as a result.
The light-hearted campaign launched with a series of short tongue-in-cheek clips to show how Brits don't put up with baffling lingo in other trades.
To receive 5% off manufacturer servicing on the MotorEasy website, use the code: LOST5
Have a repair jargon example, garage frustration or simply a question about your car? Add it to the campaign and put it to the MotorEasy engineers using #lostintranslation.