(Almost) never has so much money been paid for so little car:Car & Classic's auction of second-most expensive Peel P50 in the UK

1963 Peel P50 microcar's sells for £111,000 in the UK World's smallest car fetches second-highest price paid at British auction
Original vehicle, rare (one of 46 ever made) Not all three-wheelers are expensive: Reliant Supervan 3 sells at same time for £6,100
Car & Classic is increasingly becoming the go-to online auction platform for unusual and rare classic vehicle finds: this Peel P50, just sold for an impressive £111,000 – believed to be the second-highest price paid at a British auction for the model – is also said to have a wild past: used in a promotional stunt going all the way to the top of the Blackpool Tower, it may be the earliest model ever made, as a pre-production example sporting a lower fitment of the windscreen, early Lucas sidelights, a cream steering wheel and no rear roll bar. No other Peel has the same features.
Capable of 38mph and with a range of 100 miles per gallon, the 59kg car has no onboard instruments or odometer, nor a reverse gear, relying on being lifted and turned into the desired direction by the driver. Its compact and cheeky looks make it a striking choice as a city car. Partly because of its glamorous history and totally unique features as well as its rarity as a model, the Peel was the object of brisk bidding until the winning £111,000.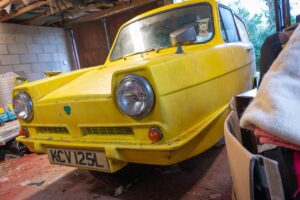 If small and economical (especially in the current climate) are important aspects of one's personal quest for an unusual classic car, but that winning bid may have put the Peel firmly out of reach for most, then an alternative was offered by Car & Classic at the same time as the Dragon Red P50: the bright yellow 1973 Reliant Supervan, with a top speed nearly twice as high, sold for a more compact £6,100.