Baby Driver is our feature film in the latest mag, plus we have background interviews that we will be sharing with you over the coming days.
Here's the plot: a talented, young getaway driver (Ansel Elgort) relies on the beat of his personal soundtrack to be the best in the game. When he meets the girl of his dreams (Lily James), Baby sees a chance to ditch his criminal life and make a clean getaway. But after being coerced into working for a crime boss (Kevin Spacey), he must face the music when a doomed heist threatens his life, love and freedom. See it Only In Cinemas.
Edgar Wright had been thinking about how to cast BABY DRIVER for years before it went into production. Though he initially imagined Baby as short – "because I'm short," he adds, laughing – he says meeting Ansel Elgort made him realize nobody else could play the title role.
"The thing that really charmed me about him was the fact that he's very musical, and he can play lots of instruments," says Wright. "One of my favorite scenes with Ansel, he has his headphones in and he's listening to Dave Brubeck, and starts playing piano on the table. There was something so beguiling and hypnotic about watching a 21-year-old actor play along to some jazz from the '50s. Ansel is fascinating in that regard."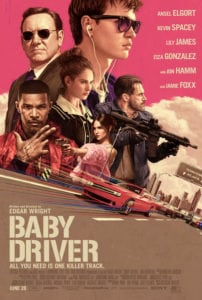 Elgort explains that it was his and Edgar's mutual love for music that connected them upon their first meeting in LA. "Edgar and I met in Los Angeles and we had lunch, and all we talked about was music," says the actor. "At the time I didn't even know what this film was about, but we both shared a love for music."
Says Wright, "Ansel is actually obsessed with music, which the lead character in the movie is. His life is completely governed by music and living to the rhythm of the music he's listening to, and Ansel has a dance background. And also he's a great actor and a nice guy."
Elgort was excited to take on the role of Baby, explaining, "I loved how eclectic the role was. He's the getaway driver so I had to learn to drive, he has a deaf foster dad who he signs with, so I had to learn to sign, and his life moves through music so there's the dance and choreography challenges too."
Explains his co-star Jon Hamm, who plays fellow criminal Buddy, "Baby is constantly having to prove himself to the different criminals that Doc recruits. You have these various lethal and dangerous people coming together to complete this one job and they are shocked when they see this young kid."
Hamm continues, "Buddy's take on Baby is that he sees very early on that he's incredibly capable. And these crews that rob banks for a living rely on the guy who has to get them to the job and away from the job as fast and effectively as possible – and Baby has to prove that he is very good at that and very quickly."
"Ansel has a very tricky challenge I think throughout this entire film," explains Hamm. "Baby is a character that is very much in his own head and he wears his sunglasses and has his earphones in and he doesn't talk much, it's an interesting challenge trying to portray a character through his music selections in various situations. The first bank heist you see him rocking out in the car while we have guns in the air and people are screaming. There's almost this weird humor to his character but also a dark ability to carry on with these criminals," continues Hamm.
For Lily James, who plays Baby's love interest Debora, Elgort makes it easy to sympathize with Baby. "You root for Baby because he's got such a good heart and you see him at home with Joe, his foster dad, and there's this beautiful relationship. He's doing this to get a better life for Joe and himself, and so you want him to succeed, and you don't want him to get totally corrupted in this horrible world. I think he's got such a big heart and that shines through in Ansel's performance, which I think is so beautiful and kind of vulnerable but cool."
When it came to casting the rest of the movie, Edgar Wright says he always intended BABY DRIVER to be an ensemble movie, if only because as much as Baby might like to escape his work colleagues, he can't. "The idea is, take this loner, and put him in a gang that he really doesn't want to be in," says Wright.
At the head of the heist crew, the mastermind assembling the troops is kingpin Doc. He needs guys who aren't doing this for the thrill – they're doing it because it's their job, and they take their job seriously. Who better to fill out that deadly serious crime boss role than Academy Award® winner Kevin Spacey, who of late has been delighting audiences as the scheming President Frank Underwood on the hit Netflix series "House of Cards."
"I had in my head a practical list, and then Kevin was on the pie in the sky list," says Wright, a fan of Spacey's since he burst onto the movie scene with "Glengarry Glen Ross," "Seven," and "The Usual Suspects." "And I was lucky enough to get one of my pie in the sky choices. I flew to Baltimore and met him while he was shooting 'House of Cards,' he said yes, and I was like, well this is amazing! I got very excited about him ripping through all this dialogue I'd written. It's just fun to watch Kevin being bad. You love him no matter how mean he is."
"Doc is a no-nonsense guy, the team leader. I suppose if he weren't robbing banks, he'd be an incredible coach, because he manages to bring together these rather over the top, crazy, sociopaths, psychopaths, nut jobs, and Baby."
"Kevin Spacey's character Doc is sort of the puppet master and Kevin plays it so well with so many different layers," explains Jamie Foxx, who costars as fellow heist man, Bats. "He's such a gifted artist who can bring so much life into a character like this."
Though Doc has a stranglehold on Baby's services, he isn't entirely unsympathetic to the kid. "He's like one of those awful father figures who can be great in rare moments," says Wright, "but then most of the time he's a corrosive influence."
With the kingpin and driver in tow, next came the rest of the heist crew, a team that had to be threatening, but also move to the rhythm. "Casting an ensemble is very difficult," says producer Nira Park. "Here, we had to cast seven heist men and women including Baby as the getaway driver. We wanted certain contrasts with menacing to level headed and gun slinging, but we also needed a cast that could move to the beat of the music."
Only one part was written with an actor in mind, and that was Buddy, whom Wright envisioned for Jon Hamm. The Emmy® winning "Mad Men" star had been at the first table read for BABY DRIVER, back in 2012, and was the only actor to see it through to production.
"I've known Edgar and have been a fan of his for quite some time," explains Hamm. "I was asked by Edgar to do the original table read for the early version of the script and was on board immediately and that was about five or six years prior to filming. I really liked the script right away and knew it was an interesting idea that could become something really cool."
Hamm was thrilled to join Wright's team and play on the flipside of the law after co-starring as FBI Secret Agent Adam Frawley in The Town. "It's kind of fun to play an unrepentant bad guy," explains Hamm.
Best known for his iconic role as mid-20th-century adman Don Draper on "Mad Men," Hamm says his role search since has been toward different types of parts. "I look for things in my post 'Mad Men' career [that are] the opposite or at least something different from Don, who was very clean cut, well buttoned up, even though he certainly had a dark side. But this opportunity was definitely an example of the change I was looking for."
For Hamm, Buddy is also a case of someone eager to change things up. "Buddy's back story is that he was a very successful stock broker who then made a series of bad decisions which landed him on the other side of the law. He now uses his intelligence and charm to find success on the flipside of legal money making."
Hamm continues, "Buddy meets his girlfriend, Darling and they are living that thrilling kind of romantic, although inevitably doomed, life of crime with all of the excitement that goes along with it as well as the danger."
Darling, the brown-haired bombshell, was handed to Eiza Gonzalez, who came recommended by Wright's friend, director Robert Rodriguez. "He was like, 'This girl's going to be huge, you should meet her.' And he was right. The thing about Eiza is she's a total knockout, and very sweet, very funny, but when she turns her edge on, she's terrifying. It's a similar thing that you get with Jon and Eiza in the movie. They seem like the nice ones, but when they themselves are threatened, their lashing out is really scary to watch."
Says Gonzalez, "I loved how Darling was such a unique character who is crazy and a little disconnected with reality, which I think every criminal has to be able to accomplish dangerous activities like bank heists or killing people. You definitely have to be a little bit disconnected. But I loved how she was still very feminine."
To prepare for the role Gonzalez explains, "I really wanted to represent a woman who understands this world, so I got into researching Candice Martinez, dubbed 'The Cell Phone Bandit' for always talking on her phone during her robberies. It was important for me to try to understand someone's motivations behind choosing this lifestyle, so I read a lot about her and listened to her story and her background and where she was coming from."
Representing another temperament entirely on Doc's rotating team of robbers is Bats, a watchful hardcase whom Wright calls "probably my most fun character to write. He is probably the baddest guy in a roster of very bad guys." Taking on the mantle of the darkest end of the movie's spectrum was Academy Award® winner Jamie Foxx.
"I was so excited," says Wright of Foxx's casting. "He plays him as extremely charming, but this charm is an attempt to reel you in. He's one of those guys who brings you in closer so he can stab you. Jamie's very magnetic, and Bats is a smiling, laughing sociopath, somebody who cannot be trusted. Baby can see that Bats' arrival is bad news, and sort of does everything he can to stay away. I just like the idea of Jamie as this agent of chaos, who just enjoys wreaking havoc."
The multi-talented Foxx says, "I had never seen something like this before and was impressed at Edgar's willingness to take a chance with something really fresh and unique. When it comes to Bats' character, he is really simple. He wants to get money and he doesn't want to have to get to know anybody or make any friends. If there are any loose ends or weak links he deals with it in his own special way."
Before Bats enters the picture, though, the muscle on the first heist team is Griff, played by Jon Bernthal. Embodying the other side of the law from Marvel's crime-fighting vigilante The Punisher, which he plays for Netflix, Bernthal embraced the unique challenge of Griff.
"Griff is a pain in the ass," says Bernthal. "He's a tough guy to deal with, and I think the only thing better than not dealing with him at all would be to have him on your side. You'd rather have him on your side than against you. These guys are part of this criminal underworld where you're known by your reputation. These guys are by no means petty criminals."
Rounding out the group of heist men are Lanny Joon, and bassist for The Red Hot Chili Peppers, Flea, who had known Wright and was excited to join the director's team. Flea explains, "I read the script and was blown away. It's such a wild, unique and cool vision that Edgar had for this thing and the combination of music and action and poignant feelings is rare."
In addressing the musical elements to the film, Flea says, "Music is the most important thing in my life and Edgar has made music such a crucial part of this film. It's such an interesting and exciting concept and it's been a fun process to watch Edgar bring this thing to life."
After such a formidable cadre of criminals, finding the sweet spots in the cast carried its own challenges. Who could bring to life Debora, the kind-eyed, friendly waitress who gives Baby hope that his life could mean something more? Wright found her in British actress Lily James, the Cinderella of Disney's recent hit movie.
"I was incredibly charmed by her," says Wright. "She basically did in the audition what she does in the movie. She inhabits this character, this new ray of light in Baby's reasonably introverted life. I sent the video of her audition to Bill Pope, my cinematographer, whose opinion I really trust, especially on actors and actresses. I didn't tell him why I was sending it or what I thought of it. Maybe half an hour later he replied with a two-word email saying, 'Hire her.'"
Says James about her character, "Debora works a dead-end job and it becomes clear that she has no ties to where she is at this point in her life. She has no family and is a bit of a wanderer who wants to escape. She's a dreamer and she loves music, which is why she and Baby really connect."
With so much music and rhythm and percussive excitement, there's one beat in the movie that's only ever heart-like, and that comes from CJ Jones as Joe. Baby's foster father and fervid conscience, Joe is there to share his joys, but remind him that crime doesn't pay. The filmmakers knew that Jones, a world-renowned Deaf entertainer, was perfect for this crucial role.
Says producer Park, "CJ has so much amazing positive energy and he really has great chemistry with Ansel, who has been challenged with learning to sign because CJ's character in the film is actually deaf. This detail adds a very special element to the Baby and Joe relationship since Baby develops tinnitus after a traumatic accident and he's pained by constant background noise. So, it's nice that he has this very intimate relationship with someone that has a profound but quiet and comforting presence in his life."
Wright says working with Jones was an emotional, heartwarming experience, but also "very funny. CJ's a deaf standup comedian, and is very, very funny." An unexpected result of directing Jones, says Wright, was an improvement in his own communications skills. "If you're working with somebody who is reading your lips, you very quickly start to realize that 50 percent of what you say is nonsense. I had to be much more succinct, and get to the point. I adored working with him."
Wright also assembled a team of rock star cameos including Jon Spencer – whose "Bellbottoms" is prominently featured — Big Boi, Killer Mike, Sky Ferreira (briefly seen in a flashback as Baby's mother) and Paul Williams to name a few. "I thought it would be a fun thing to have musicians in the movie," says Wright, "because it's such a music-driven movie."
"Edgar, is a fan of Outkast and my work and he reached out to me directly and me being a huge fan of Edgar, I of course was excited to hop on board," says Big Boi.
Killer Mike echoes Big Boi's excitement to join Wright's project, especially because of the musical element. "I love movies that are set to music, it's always cooler, and it moves the action along. And I'm a musician, so, of course, I love it. It's a real treat to be a part of something like this."