Car finance deals are becoming increasingly popular amongst prospective buyers in the UK, yet many consumers are unaware that through finance plans such as Hire Purchase (HP), Personal Contract Hire (PCH) and Personal Contract Purchase (PCP), they can drive away in a set of wheels for as little as £27 per month. To illustrate, Auto Trader, the UK's largest digital automotive marketplace, reveals the lifestyle changes you can implement to make owning your dream car a reality.
According to a recent study, Britons spend on average more than £2,100 a year in coffee shops, forking out a massive £184 a month. If they were to put that money towards a car instead, they could be the proud owners of a swanky vintage Porsche.
Here are other savings you could make to be able to afford your dream car: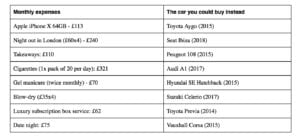 With so many outgoings it can be difficult to imagine how you could afford the car you want. Erin Baker, Editorial Director at Auto Trader says: "Car finance deals have made car ownership a realistic prospect for many drivers, but it's also increased choice across both new and used cars, surprising buyers with cars they may have first thought unaffordable and making it easier than ever for buyers to find their dream car."
Even still, many people are overwhelmed by financial jargon. That's why Auto Trader has created its intuitive car finance calculator, enabling car buyers to search the UK's largest automotive marketplace based on their monthly budget for the very first time.